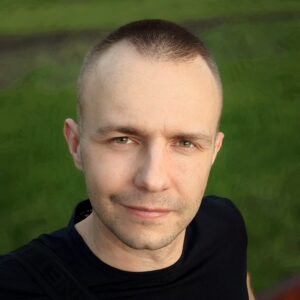 Krzysztof Polaczenko is an artist born at 15th of January 1987 in Świdnica, Poland. He has been painting for most of his life and finally decided to become a professional painter.
In his works he combines different techniques such as an acrylic paint, oil paint and aquarelle coloured pencils, oil pastels and ball point pens. His inspirations are derived from an observation of our world.  He is obssesed about details, quality and durability of paintings. His works are in polish and foreign collections.
Beyond being a painter he is also a writer and a multi-instrumentalist musician. As a musician he created five albums and released them by net labels. His music was downloaded more than 60000 times. In 2014 as a writer he published a touching novel called "Wanna" (in english "Bathtub").
05.03.2020 – 28.03.2020 – Exhibition "ONIRIUM" Polaczenko / Oporski at "OMEGA" gallery in Toruń.
13.09.2019 – 15.10.2019 – Exhibition "Real Ilussion" at "Mosaica" galery in Nowa Ruda.
14.06.2019 – 16.06.2019 – Art and craft expo "Targira" in Świebodzice.
05.03.2019 – 21.05.2019 – Exhibition "Real Ilussion" at Bolków Castle Museum.
27.02.2019 – 26.03.2019 – Exhibition "Real Ilussion" at  Cyprian Kamil Norwid City Library in Świdnica.
09.01.2019 – 30.01.2019 – Exhibition "Real Ilussion" in Cultural Center Wzgórze Zamkowe in Lubin.
06.11.2018 – 30.11.2018 – Exhibition at House of Muses in Toruń as a part of "100 paintings for 100 Years of Polish Independence" organized by Omega Gallery in Toruń . Presented work "Gap of life".
05.10.2018 – 28.10.2018 –Exhibition "Real Ilussion" and book presentation at City Cultural Center in Świebodzice.
11.09.2018 – 27.09.2018 – Exhibition "Real Ilussion" and book presentation at Civitas Christiana Society in Wałbrzychu.
07.09.2018 – 27.09.2018 – Exhibition at the Bussiness & SPA Center Nowa Bochnia, as a part "Artistic Derby 2018 (pol. Derby Artystyczne 2018)" program. Presented works: "Moderna" and "Devourer of Time".
21.08.2018 – 16.09.2018 – Exhibition at the Polish Aviation Museum in Krakow as part of the Jubilee exhibition "Image Magic (pol. Magia Obrazu)" of the "Artistic Derby 2018 (pol. Derby Artystyczne 2018)" program. Presented works: "Train of thoughts" and "Indifference".
08.06.2018 – Painting your fear – movie presentation premiere about painting "Lunch break" on George Takei Presents, over 1 millon views. 
26.10.2017 – High School lecture about books and painting, during Literature and Art Festival Four Elements of Word
01.03.2017 – 31.03.2017 – Exhibition "Real Illusion" in Klub pod Kolumnami ,Wroclaw
17.11 .2016 – 23.12.2016 – Participation in exhibition SILESIA ART BIENNALE 2016,
24.06.2016 – 09.07.2016 – Exhibition in Museum Ślężańskie, Sobótka
19.05.2016 – Book signing and painting presentation in Sobótka City Library
01.04.2016 – 07.04.2016 – Exhibition in Warsaw Agora Galery and auction in Art in House
26.02.2016 – 09.03.2016 – Exhibition "Real Illusion" in Gallery of Photography. Świdnica.
17.10.2015 – Book and painting presentation during a Literature and Art Festival Four Elements of Word
17.08.2015 – Book signing and Exhibition in City Library and Cultural Center of Boguszów Gorce
10.08.2015 – 21.08.2015 – Exhibition malarska w MBP w Szczawnie-Zdroju
07.08.2015 – Book signing and painting presentation in Cafe "Art Garden" in Szczawn0-Zdrój
23.07.2015 – Book signing and painting presentation in Spa House in Szczawno-Zdrój
19.06.2015 – 18.08.2015 – Painting exhibition and book signing in gallery-club "CieKawa" Jedlina Zdrój
09.05.2015 – 10.05.2015 – Painting exhibition during Balloon Festival Krzyżowa 2015 
18.03.2015 – 25.03.2015 – Painting exhibition in Świdnickim Ośrodku Kultury
02.03.2015 – 13.03.2015 –  Painting exhibition Youth Cultural Center of Świebodzice
20.02.2015 – Book signing and painting presentation in Youth Cultural Center of Świebodzice
13.01.2015 – Book signing and painting presentation Library pod Atlantami in Wałbrzych
01.08.2014 – 31.08.2014 – Exhibition and book singing in Towarzystwo im. Edyty Stein